B
osa was probably founded by the Phoenicians in the 9th Century BC. At the end of the Roman Empire it was dilapidated and depopulated. The old town of Bosa, Sa Costa, dates back to the 13th Century, and is a fascinating maze of little narrow cobbled streets. Sa Costa is well worth wandering around and seeing all the pretty old houses, often painted in bright colours. The Lemon Tree House is in Sa Costa, close to the steps that lead all the the way up to the Castle, Castello Malaspina. The castle is worth a visit (closed Mondays), fantastic views from the walls, and a 14th Century church with remarkable frescoes in good condition.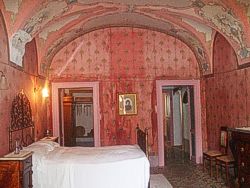 The Casa Deriu Museum
There are many other churches in Bosa. The Cathedral, dedicated to Santa Maria Immacolata, in the Piazza del Duomo just at the lower end of Sa Costa, is magnificently ornate and was restored at the beginning of 19th Century. Similarly grand is the Carmelite Church and Friary, recently restored, at Piazza Carmine. Plain and extremely beautiful is the old Church of San Pietro, go over the old bridge and about 1 kilometer down the road to the left. This was the original cathedral and, before the castle was built, the town was around this church. Dating from the 11th Century it is open to the public in the afternoon. Walking there you pass two other old churches, and many beautiful plots of land with vegetables,vines, fruit and olive trees. There are many other fine churches in Bosa, too numerous to mention here. You can walk in almost any direction from the house, through the town, towards the sea, up the hills, along the river or out to the country and be sure of an enjoyable, interesting time.
Bosa is an ideal location from which to explore places of interest in the North West region and beyond. It is also a wonderful place to stay, relax, do very little and enjoy the lovely beaches, bars and restaurants. This is a fantastic area for food and wine and there are many opportunities to sample wine, food and olive oils produced locally. The producers are extremely generous with their time and produce.
There are two museums in Bosa, one behind the 'conces' the old warehouses and tannery opposite the main town. This is the Museum of the old leather tanning industry. The other, on the Corso, devotes a floor 'Casa Deriu' to a noble family's apartment from the late 19th Century. There is a permanent exhibition of artwork by Melkiorre Melis, a local artist and major exponent of 20th Century applied arts in Sardinia. Also there is a surrealist art gallery attached to this museum, and usually other exhibitions, especially of the traditional Bosan handmade lacework. You will still see old ladies sitting in their doorways in the old town making this lacework.
Bosa Marina has a huge sandy beach and that may be all you desire. The sea is clean, safe and there are many good beach bars. However venturing a little further a-field is worth the effort. A little North of the beach at Bosa Marina is Sas Covas, moonscape rocks, a natural swimming pool, and a beautiful little sandy cove that you can walk down the cliff-face path to.
Parking by the road, a few miles out of Bosa towards Alghero is S'Abba Drucche and then Cala Cumpultittu. You can walk from the road down a path to a beautiful beach, coves and rocks and shells. It is less crowded and breath takingly beautiful. There is also a prehistoric village nearby. There are other little beaches and coves between Bosa and Alghero. Watch out for groups of cars parked by the main road, then look for a path going down to the beach.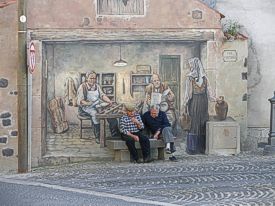 The murals at Tinnura, near Bosa
Going South of Bosa, the next beach down is Porto Alabe. Less crowded than Bosa, beautiful sandy beach and a good bar and Pizzeria. There is a path from the beach which goes over the hill to another sandy beach with interesting rock formations. This path is a joy to walk along, the wild bushes of the macchia giving their heavy scent in summer, and covered with wild flowers in spring, including many types of orchids.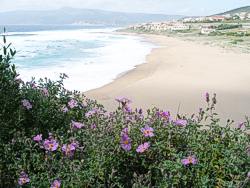 The beach at Porto Alabe
There are several ways to get to Porto Alabe, but on your way there or back it is worth having a look at the murals in Tinnura. Remarkably life-like depictions of rural scenes of days gone by.
The town of Flussio is also worth mentioning, famed for its industry of hand made baskets. These are made from the dried stems of the asphodel whose white flowers are all around in spring.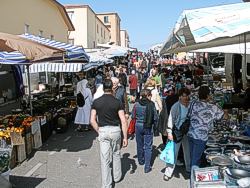 The market on Corso Garibaldi, Tuesdays in Bosa
Bosa has a large bustling market on Corso Garibaldi every Tuesday. It has everything from fruit and vegetables, cheese and salami, torrone (a local speciality nougat), pots and pans, clothes, bags and shoes and almost anything else you might want. Note the big queue at the cheese stall a little way up on the left by the torrone stall, a great selection of excellent cheeses and you can taste before you buy.
Alghero market is very large and is on a Wednesday, Suni on Friday and Cugliari Saturday.
You can hire bikes in Bosa, as well as boats and canoes, you can also book excursions down the river and out to sea down by the river and at Bosa Marina.

Sardinia is covered in prehistoric sites. There still remain over 7,000 recorded ones. There are many to see around Bosa.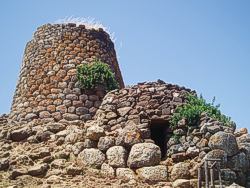 Nuraghe near Bosa
Within a short drive from the town you can explore Nuraghi, the massive neolithic buildings over 3,500 years old as well as even older Necropolis, ancient burial chambers dug out of the soft rock. There is a particularly good example near Suni, on the road towards Pozzomaggiore, and also at Villanova Monteleone. They are generally open mornings and afternoons, closed Mondays, and a ticket gets you a guide who takes you round the Nuraghe, then the Necropolis, and the ticket also gives you entrance to the Archeological Museum.
There are ruins of a largely Punic / Roman / Carthaginian city at Cornus near Santa Caterina Pittinuri which is interesting but largely un-excavated. However the remains at Tharros of a Phoenician City founded in 730 BC are totally stunning and well worth a visit. An hour or so drive from Bosa, near Oristano, the site has bars and restaurants, and a very nice beach nearby. The old church at San Giovanni di Sinis is worth a visit whilst you are down there, it is one of the oldest Christian churches in Sardinia.
Whether you wish to visit the recently opened national park of the island of Asinara, or Tiscali, the neolithic village concealed inside a huge cave at the top of the mountains near Nuoro, these can be arranged from Bosa. Other excursions and expeditions are also available. Particularly good fun is the Little Green Train, which runs between Bosa Marina and Macomer. The journey offers stunning views, stops at points of interest and for refreshments. Details of excursions and to book there is an office at Bosa Marina at the old station.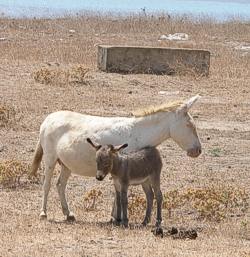 Wild donkeys on Asinara Island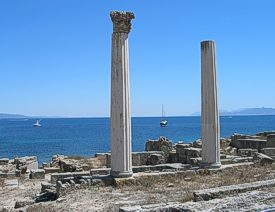 Tharros, Phoenician / Roman remains of great city
The Island of Asinara is famed for the native albino little donkeys, stunning scenery and remarkable, often unique, flora and fauna. You are guided around the island on a pullman coach or Dotto road train. You can also do it on horseback.
Getting to Tiscali is as much part of the excitment as being there. A 4x4 vehicle will take you as far as it can, then there is an hour of trekking over steep and rough terrain. (Appropriate footwear required!). The scenery is amazing, and then you arrive at a place where it is difficult to believe that neolithic people lived there thousnds of years ago.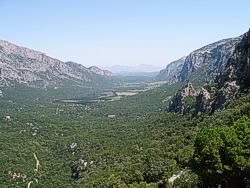 Getting to Tiscali, trekking up Sopramonte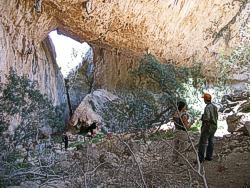 Neolithic village remains inside the massive cave at Tiscali,
Much more information about water sports, outdoor pursuits, trekking, birdwatching and other excursions and places of interest can be obtained from ESEDRA Escursioni, esedrasardegna@tiscali.it, shop and agents on Corso Emanuelle tel: (in English) (0039)3349377991, web: www.esedrasardegna.it. Also the travel agents on the Corso, SWS Bosa. (The Tourist Info, Pro Loco, has recently re-opened on the Corso and is occasionally open.)
Of course we will always try to assist you in making arrangements for excursions, just let us know what you would like to do and we will try our best to sort it out for you.
THE TOWN | THE CASTLE | CHURCHES | MUSEUMS | BEACHES AND COVES | MARKETS | PREHISTORIC & ROMAN SITES | BOATING | CYCLING | TREKKING | EXCURSIONS